Basics
Full Name:
Fumei Takaramono (不明宝物)
Meaning of Name:
Unknown Treasure
Sex:
Female
Occupation/Rank:
Miko
Shrine:
Yūhi 夕日
Appearance
Age:
20
Eye Color:
Jade Green
Hair Color:
Raven Black
Type of Build/Body:
Lean Athletic
Height:
5'9"
Weight:
125lbs
Distinguishing Marks:
Her ears are pierced in the lobes and she has a crimson Shakra in the center of her forehead.
Traits
Skills:
Champloo style fighting which includes Kendo, Kenpo, Karate, Maui Tai, Archery.
She has the ability like all Miko to see evil spirits and to banish them. Using Sacred Arrows.
She is the only
Female
Guardian of a Scripture of Heaven and Earth in History. In her possession is the Kouten Scripture.......although where she keeps it only she knows.
Attitude/Personality:
Fumei is kind soft spoken and yet brash and can be considered crazy. She often does her own thing without worrying about what others think and doesn't dress like a traditional Miko although she does wear the correct coloring. She's the sort who kicks ass first and asks questions later if you piss her off.
Images For character: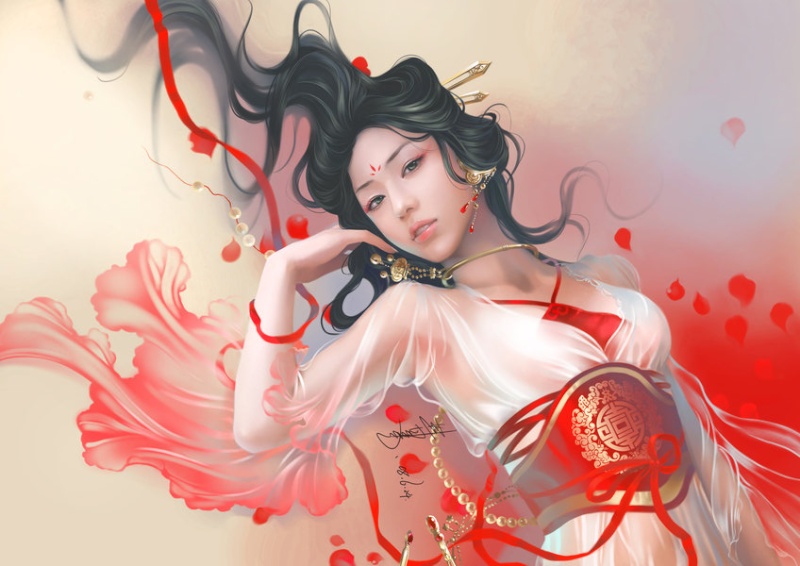 Background
History:
Fumei was orphaned as a child taken in by the Miko's of a temple attempting to blend together Shinto and Buddhism she learned a great many things including that of the previous guardian of the Kouten Sutra had to teach her. But as he grew older he needed to choose another guardian before he passed away. Seeing as how there was no set criteria for choosing a Guardian and how he liked her spunk and the spirits seemed to agree as the Shakra appeared in the center of her forehead when he named her Guardian she became the only female Priestess in history to hold one of the founding scriptures something that until that point had always been in the hand of the Monks.
Fumei knows she has a lot to live up to and has to fight extra hard to keep the Scriptures safe. It's a challenge she's more then happy to live up to. Seeing as how she doesn't mind knocking a few skulls in to teach a lesson or two......